The Turbine Plays welcomes Simon Penny : Research, imagination and future thinking on climate together with Gronings Vuur and Sense of Place
Wednesday, November 1,  2:30 – 5:00 PM
Wongema, Tammingastraat 58, Hornhuizen
In 2024, a multitude of exciting projects are set to commence in Het Hogeland, each of them focusing on enhancing and spotlighting the region's landscape, climate, and community through the lens of art and cultural expressions. People involved in The Turbine Plays, Gronings Vuur and Sense of Place, alongside those from Het Hogeland and Groningen, are brought together to inspire each other. By combining our collective expertise, we seek to strengthen the overarching mission of these projects.
The team of the The Turbine Plays, is excited that Simon Penny can join us for a couple of days during his visit in Europe.  We created a day-long program in Groningen. Simon Penny is a renowned figure in the field of art and technology. His lecture can provide valuable insights into the integration of technology and art in the context of energy transition, shedding light on innovative approaches and methodologies that promote a deeper understanding of interdisciplinary collaboration and how it can be used to effectively address the challenges of energy transition. Simon Penny's expertise extends to an international level, which can provide a global perspective on energy transition and sustainability.
Simon Penny, writer of the book: Making Sense: Cognition, Computing, Art and Embodiment. MIT Press, 2017, is an artist, theorist and teacher with a longstanding focus on emerging technologies and on embodied and situated aspects of artistic practice. He has built interactive installations and robotic art since the mid 1980s. He explores – in artistic and scholarly work and technical research – problems encountered when computational technologies interface with cultural practices. Penny is currently professor in Electronic Art and Design (Dept of Art) at University of California, Irvine, with appointments in the dept of Music and in Informatics (School of Information and Computer Science).    simonpenny.net
With special thanks to Bert Kers, and the Center for Isotope Research of the University of Groningen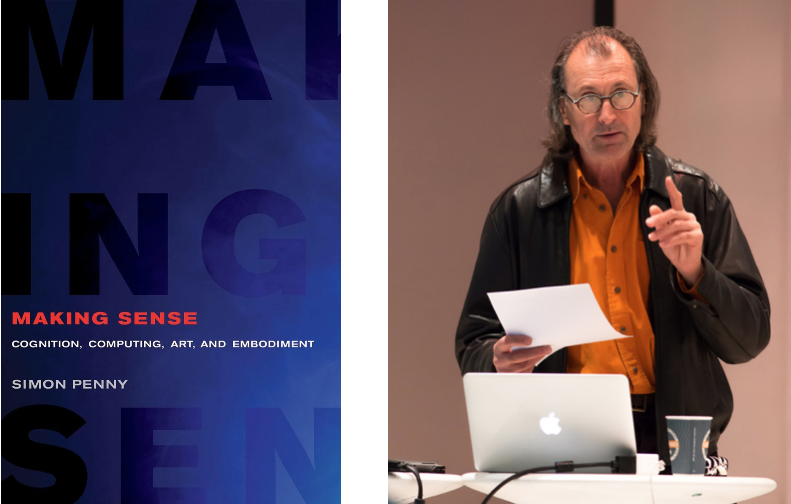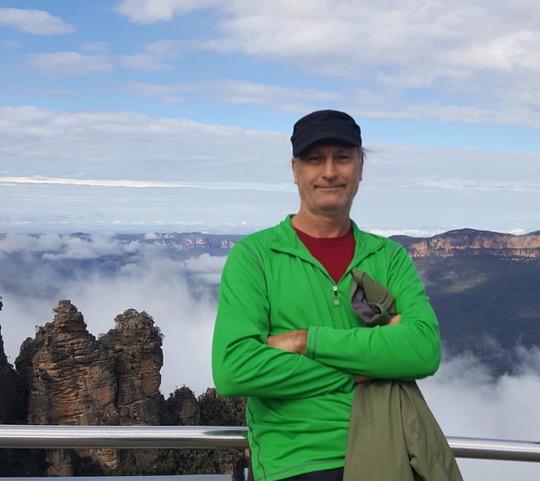 Eco ethics at the end of the Anthropocene
Monday, October 30
Lecture and discussion by Simon Penny
Zone2Source, het Glazen Huis 5 – 7 PM, Amsterdam
Entrance 10 euro
The team of the The Turbine Plays, is excited that Simon Penny can join us for a couple of days during his visit in Europe. Simons first lecture and discussion will be held at the venue Zone2Source, an Amsterdam-based platform and exhibition space that focuses on art, nature, and technology and operates in the Amstelpark, Amsterdam. Zone2Source's mission is to explore the interplay between art, nature, and technology and to create a platform for artists, researchers, and the public to engage with these themes. Simon Penny's lecture offers invaluable insights into the ethical and environmental dimensions at the intersection of technology and art. His multimodal approach and visionary perspectives align with the overarching themes and objectives of both Zone2Source and The Turbine Plays, underscoring their shared commitment to exploring the dynamic relationship between art, technology, nature, and sustainability.
Simon Penny is an artist, theorist, curator and lecturer in digital cultural practices. He is currently a Professor at the University of California, Irvine and a renowned figure in the field of art and technology. His lecture at Zone2Source can provide valuable insights into the integration of technology and art in the context of the ethical considerations surrounding the echoes and repercussions of human actions in the Anthropocene epoch, a time characterized by significant human impact on the planet. He will dive deep into the understanding of how our cognitive processes are intricately linked with our physical interactions with the world, thus influencing our ethical choices and responsibilities in the Anthropocene era.
Bridging the Past and Future: A Sustainable Paradigm Shift
Discussion The Turbine Plays with experts, Fri, Sep 26, 2023
SPEAKERS Frouke Wiarda, Judith van der Elst, Jack Ox (intermediaprojects), Peter Beyls,
GUESTS Mariachiara Esposito (EU commission), Sebastian Oberthuer (directeur research centre climat, policy) , Tereza Maarova (projectmanager research centre climat, policy)
VENUE Académie royale des Beaux-Arts – École supérieure des Arts ArBA-EsA, Bruxelles, Belgique
In the dynamic interplay between art and science, we discussed the connections between the two and with that their essential role of societal ownership in climate action specially through artistic engagement.
Central to this afternoon's discussion is the idea of integrating art and science as powerful allies in the development of ideas and strategies ; to share experiences, exchange knowledge and assign value when artists and scientists forge a common understanding, purpose and synergy that seeks innovation in energy issues. And in both disciplines, experimentation and failure play an important role because they are crucial for learning and growth.
Convergence of art and science can be a key position for communication; complex social issues and concepts could be made "digestible" for the public to develop innovative solutions and or ideas for a sustainable society. Moreover, art plays an important role in informing scientific research. Yet this process is not without its challenges, as it struggles with the boundless creativity of art and the structured predictability of scientific research proposals. (But is it really that different;-) The artist's multimodal approach and visionary visualizations and sonifications offer new perspectives that enrich scientific research. Therefore, it is vital to learn from each other and also to better understand the overlaps of perspectives that exist.
The Turbine Plays Research Week (Groningen) April 10 – 14, 2023 The first intensive week where the artists, composers and scientists come together to share knowledge and questions about the energy transition, transition of the landscape and climate and that we can consider which and how we can shape the relationship between the different arts and the different sciences. We embarked on a journey to document various aspects of our project through a series of candid pictures.  these snapshots provide a realistic glimpse into our experiences. The field trip was an essential part of our exploration, where we visited wind turbine installations and captured images that reflect their sheer size and presence in the landscape. The pictures portray the turbines as functional structures rather than glamorous icons, emphasizing their practicality in generating renewable energy. Our meetings with builders of wind turbines allowed us to gain insights into the technical aspects of their construction. The images showcase the workers' dedication and the attention to detail required in building these structures, highlighting the craftsmanship involved. To understand the impact of wind turbines on landscapes, we engaged with researchers who shared their perspectives on the integration of these structures into natural surroundings. The photographs capture the turbines as they coexist with the environment, offering a glimpse into the balance between energy generation and the preservation of nature. Exploring the effects of wind turbines on animals and humans was an important aspect of our research. We documented scientists studying bird migration patterns or bats casualties and experts assessing the community response to wind farms.
Student activity (Hanze University of Applied Sciences) Febuary 2023, Projectweek (5days) Crafting the Turbine: The primordial forces of wind play a significant role in forming our landscape. In the present changing climate, the wind turbine is a symbol of change and transition. In this project week, we explored different perspectives on wind energy and examined alternative turbine designs and wind-inspired art. We constructed an artisanal wind turbine using wood and scrap materials. Through artistic research, we created small turbine models and conceptualized the construction of a life-size wind turbine. Our sketches, models, and experiments contributed to the research lab established at Minerva during that week. The majority of our time was spent building and working in a workshop located at the SuikerTerrein in Groningen, where the turbine would eventually be installed. Additionally, we visited EnTranCe, the Centre of Expertise – Energy at the Hanzehogeschool, to conduct tests on our alternative turbine models.
Digital Sustainability event (Media Art Festival Friesland) Saturday Feb 18  Even though the universe is expanding and vacuum space increasing, the air around us in our atmosphere is very material. Hard to grasp, ephemeral, escaping our propensity to categorize our world in discrete tangible objects, air is incredible dynamic, full of life and non-life, inspiring our world. Inspire, a word conventionally used to refer to a mental quality, the objective of this afternoon is to discuss a different kind of understanding, to confront the dichotomous nature of the way in which modern societies classify our world, mind-body; hardware-software; art-science. Air defies this kind of objectification and is the perfect place to put our bodies in to explore such issues.
The discussion is an open platform and several guests will be present to provide thoughtful insights on the topic. Our guests of honor are Simon Penny professor in Electronic Art and Design (Dept of Art) at University of California, Irvine and Annet Dekker, curator and researcher and currently assistant Professor Archival and Information Studies, and Comparative Cultural Analysis at the University of Amsterdam and visiting professor at the centre for the Study of Networked Image at London South Bank University. This is a hybrid event. Special thanks to Knowledge Centre Arts & Society and Centre of Expertise Energy.
Community Collaboration event (Minerva) March 31th 2023
Imagine the un-imaginable How can art and science strengthen each other, for the benefit of citizens' well-being and engagement (in the northern provinces)? – Ina Horlings
As citizens with diverse pasts, we are responsible for shaping our shared imaginative future. As residents of the Northern Region, we each play our own, or even different, roles in this process. As a scientist, artist, working in healthcare, construction, agriculture, ecology or other profession, as a member of local or regional associations, we all have a unique contribution to make and it is essential to represent the different interests in this vision of the future in which we strive for a healthy, liveable world. That we have to do it together and need common sense are starting points of this meeting but also, above all, that we have to look differently (obliquely, upside down, inside out); beyond what seems possible now.
This first community focus meeting is an initiative of the project The Turbine Plays of the Knowledge Centre Art and Society (Art & Sustainability) and is organised in cooperation with Prof. Ina Horlings of the Department of Spatial Sciences at the University of Groningen. She will use her expertise together with two other main guests, Prof Claudine Lamoth (RUG, Mouvement Sciences) and Dr Nathalie Beekman (Artistic Director at Stichting Sparklab) to give the initial impetus for developing new forms of cooperation, research and practical knowledge, where we can build on the expertise and commitment of the invitees. The day's discussions and activities will bring insight into each other's network and expertise. This will form the basis for initiatives in current and upcoming projects, and for engaging each other to enter into new 'partnerships' together.
Student activity (Hanze University of Applied Sciences) International communication students developed the communication plan for the next two years of the project. Many thanks to Hoang Pham Vu for his Creative concept of developing an artist contest, Martina Galic, for her research to engage the Dutch Millenials, Sara Ilinca Ismail, for her Campaignplan,Teodor Nedyalkov, for developing our future communication products.
Kick – off ( EnTranCe) 13th of December 2022 Meet and Great, aimed at bringing all stakeholders together, giving insight of each others knowledge, introduction The Turbine Plays, presentations by stakeholders. Scientists, Artists and the Deans of Hanze University of Applied Sciences.
Special thanks to Margreet van der Velde en de Energy Barn